We believe in constant innovation. Cataract surgery continues to ride the waves of technologic innovation. Today modern premium cataract surgery is safer and the results more precise and predictable than ever before thanks to the following advancements in techniques and technologies:
More advanced preoperative diagnostics (testing before surgery):

Corneal topography
Wavefront aberrometry
Laser optical biometry with modern intraocular lens calculation formulas
Zeiss Optical coherence tomography of the retina and optic nerve
Ultra-wide retinal imaging

The most advanced surgical technologies:

Oral sedation which obviates the need (and risks) for IV sedation
LenSx femtosecond laser technology
ORA intraoperative aberrometry
Modern presbyopia-correcting and astigmatism-correcting lens implants to reduce or eliminate the need for glasses after premium cataract surgery or premium lens replacement
Constantly improving surgical instrumentation and surgical techniques

Easy and convenient postoperative routines:

Return to a normal schedule usually within one day
Resume most normal activities within one day
Better, clearer vision without glasses within one day
Simple after care using one bottle of eyedrops for convenience and cost savings
Our relentless pursuit for perfecting our surgical outcomes for premium cataract surgery has shown that over 90% of patients that receive a premium presbyopia-correcting lens implant no longer rely on glasses to see far or near. Some patients will still use glasses some of the time for some occasions.
What is the LenSx Laser?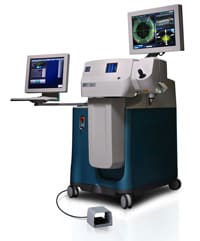 The LenSx laser used at our Austin, Texas practice provides our eye care patients with computer-controlled precision for their cataract eye surgery. It automates some of the most challenging steps of refractive cataract surgery. This femtosecond laser can be used in place of traditional surgical instruments in select patients for enhanced, reproducible surgical results.
On April 16, 2012, Austin Eye became the first eye surgery practice in Austin and one of the first five practices in Texas to offer laser cataract surgery when Dr. Shannon Wong performed the first laser cataract surgery procedure in Austin.
We believe in providing our patients with the latest technology for vision correction. We were the first practice in Austin to use the femtosecond laser for all-laser, bladeless iLASIK surgery in 2002. Now when indicated, we are using the latest evolution of femtosecond laser technology in cataract surgery.