Introducing Bladeless Laser Cataract Eye Surgery
Technology drives innovation. Cataract surgery technology has evolved over time. Traditional basic cataract surgery produces excellent outcomes. However, until recently the major steps of cataract surgery were done using manual techniques. Now we are able to offer our patients the latest technology which will set the new standard for safety and precision in cataract surgery: laser cataract surgery using a femtosecond laser.
In order to view the content, you must install the Adobe Flash Player. Please click
here
to get started.
Click on the video to learn how laser cataract surgery works
The LenSx laser used for cataract surgery patients that choose astigmatism-correcting cataract surgery or surgery with a premium lens (such as the PanOptix or Symfony) offers you a precision-based solution for your vision correction surgery. A bladeless, computer-controlled laser surgery is planned and performed to exacting individualized specification not attainable with other traditional surgical methods. Laser cataract surgery is designed to improve the precision, safety and accuracy of your cataract surgery.
What is the LenSx laser?
The LenSx laser used at our Austin, Texas practice provides our eye care patients with computer-controlled precision for their cataract eye surgery. It automates some of the most challenging steps of refractive cataract surgery. This femtosecond laser replaces the traditional hand-held blade to optimize all incisions for enhanced, reproducible surgical results.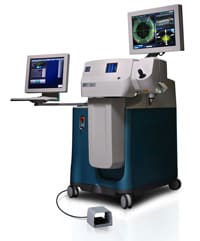 In traditional non-laser basic cataract surgery, the surgeon makes incisions and removes the cataract using surgical instruments and blades. However, during laser cataract surgery, several of the most critical steps of the surgical process are performed using an image-guided femtosecond laser.
On April 16, 2012, Austin Eye became the first eye surgery practice in Austin and one of the first five practices in Texas to offer laser cataract surgery when Dr. Shannon Wong performed the first laser cataract surgery procedure in Austin.
We believe in providing our patients with the latest technology for vision correction. We were the first practice in Austin to use the femtosecond laser for all-laser, bladeless iLASIK surgery in 2002. Now we are using the latest evolution of femtosecond laser technology in cataract surgery.
Watch this video to learn more about LenSx Laser Cataract Surgery and its benefits.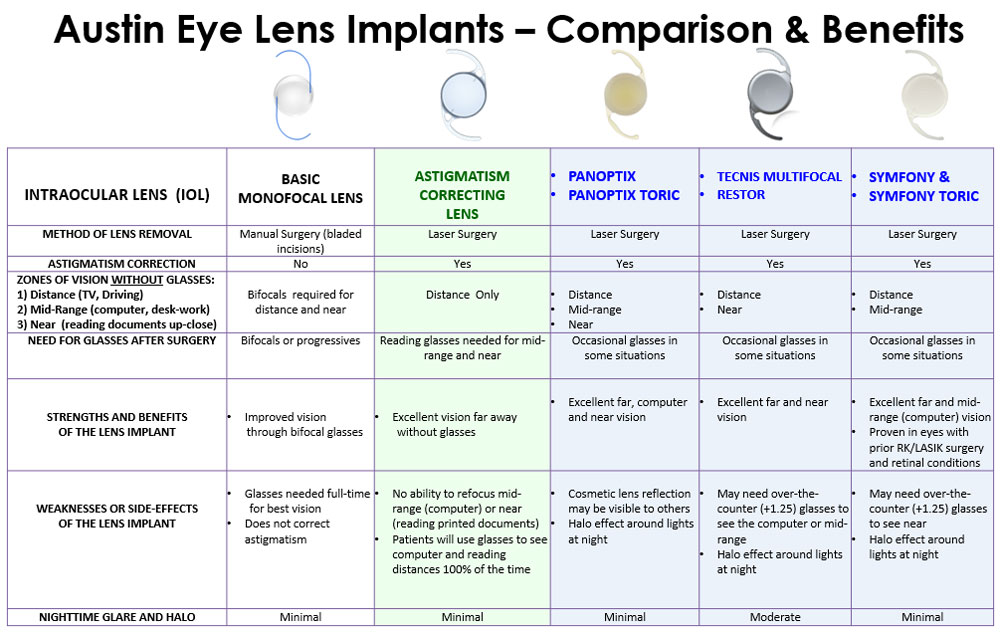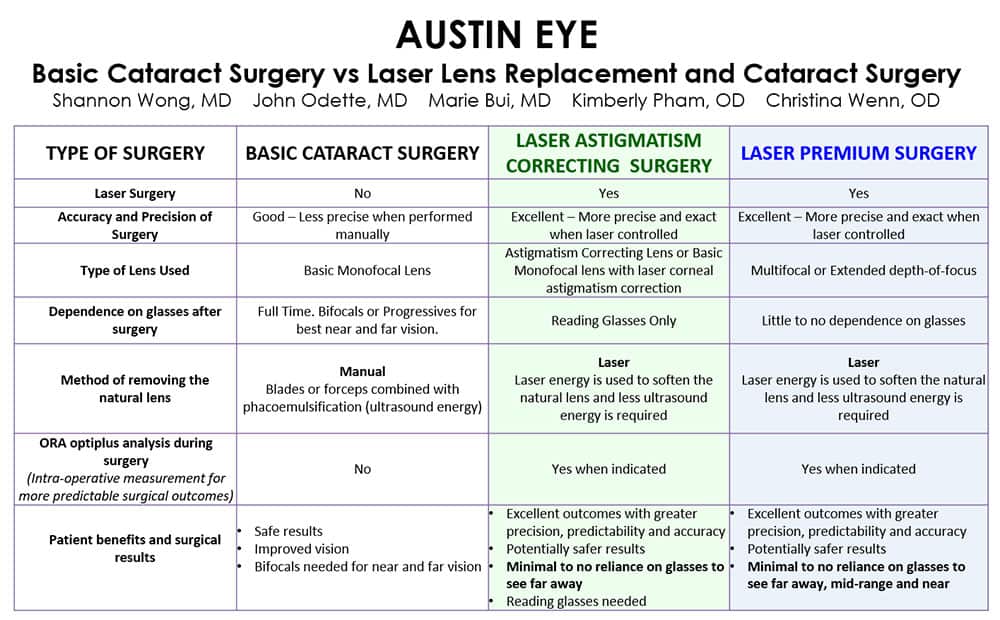 Laser Cataract Surgery FAQ's:
Is laser cataract surgery better than traditional cataract surgery?
Traditional cataract surgery is extremely safe and produces outstanding results. Laser cataract surgery was first performed in the USA in 2010. Traditional cataract surgery uses manual instruments and blades for the major steps of surgery. By replacing these hand-held instruments with the precision of a computer-controlled laser, the precision and accuracy of the surgical procedure will only improve.
Who is a candidate for laser cataract surgery?
Patients who choose to have cataract surgery with a premium lens implant such as the PanOptix or Symfony lenses are candidates for laser cataract surgery. Additionally patients who choose to have astigmatism-reducing cataract surgery are candidates to receive laser cataract surgery.
Patients who choose a basic lens implant will usually receive basic cataract surgery using traditional non-laser techniques.
During your examination with our team of ophthalmologists we will discuss your surgical options and help you choose the type of cataract surgery that is best suited to your needs and lifestyle.
What does the LenSx laser do during cataract surgery?
The LenSx femtosecond laser allows us to do the following:
All corneal incisions are made with the laser.
The circular opening made in the structure holding your lens is made with exact precision using the computer-controlled laser. Studies have shown that with the laser opening the capsule surrounding the cataract, the lens implant position in the eye is more predictable than when the capsular opening is made with a blade or needle. With a more predictable lens position the surgical outcomes are more predictable.
The cataract is pre-softened and fragmented with the laser.
Corneal incisions can be precisely placed to reduce and eliminate corneal astigmatism.
Is laser cataract surgery covered by insurance?
No. We use laser cataract surgery for patients choosing to have either a premium lens designed to reduce or eliminate the need for glasses to see near and far, or for patients choosing to have astigmatic-correcting cataract surgery. Patients will pay out-of-pocket for laser cataract surgery and insurance does not cover the correction of astigmatism or the correction of presbyopia.
We offer a convenient no-interest payment program designed to fit most budgets. To learn more about payment options please visit our financing options page.
Please contact our office or schedule your initial consultation to learn if you are a candidate for laser cataract us/surgery and to find out the cost associated with your vision correction surgery.
What is the future of cataract surgery?
We believe that laser cataract surgery will set the new standard for precision, accuracy and safety with cataract surgery. Laser cataract surgery when paired with the latest lens implant technology will enable our patients to see their best with the least reliance on spectacles and contact lenses.
Cataract surgery is the most common surgical procedure in the USA. Over 4 million cataract procedures are performed annually by ophthalmologists in the United States. With the baby boomer generation there are 10,000 people turning 65 years of age every day.
For more information about laser cataract surgery please visit: https://www.myalcon.com/products/surgical/lensx-laser/index.shtml