Your Initial iLASIK Consultation at Austin Eye
During your initial examination you will meet with your surgeon to determine if you are a good candidate for the iLASIK.
During your examination you can ask your doctor all the questions you may have about iLASIK. You will also be provided your surgeon's email and cell phone number should you have additional questions after your visit.
In order to determine if you are a good candidate for LASIK or iLASIK at Austin Eye we conduct a thorough evaluation of your eyes including corneal mapping, corneal thickness and a detailed assessment of your eye health in general. To better help our Austin Eye patients know if LASIK is right for them we look for the following qualities:
You are 18 years or older
Good general health
Free of eye diseases
Stable vision for at least one year prior to LASIK procedure
Free of any eye infection or injury
LASIK Procedure Details
The surgeons at Austin Eye are the first and most experienced at performing all-laser-lasik (aka iLASIK) in Austin. We offer custom iLasik, which is a custom-tailored treatment for your particular eyes.
In order to view the content, you must install the Adobe Flash Player. Please click
here
to get started.
The iLASIK procedure is usually completed in 10-15 minutes for both eyes.
Though virtually everyone contemplating elective eye surgery has concerns and apprehension, the procedure is extremely safe in patients that we identify as good candidates.
The cost of iLasik is about $2,500 per eye. We accept all major credit cards and offer a convenient monthly payment program – Care Credit – that offers a 24 month no-interest payment plan.
All LASIK procedures at Austin Eye are performed with the all-laser blade-free iLASIK technology. iLASIK uses one laser to create the corneal flap followed by use of a second laser (excimer laser) to reshape the cornea. iLASIK is an all-laser procedure which has proven to be the safest and most accurate form of LASIK surgery. Patients who have "fears" about LASIK should take comfort in the increased safety and accuracy of the "iLASIK" procedure using the IntraLASE laser.
CONVENTIONAL iLASIK
Uses the prescription obtained through the standard measurement device in the ophthalmologist's office (known as the phoropter) to guide the excimer laser ablation. Conventional iLASIK corrects what are known as "lower order aberrations" which account for approximately 90% of the visual imperfections. An IntraLASE laser flap is created followed by an excimer laser ablation that corrects approximately 90% of the eye's visual aberrations.
CUSTOM iLASIK
Uses a special computer known as an aberrometer or wavefront measurement device to obtain a more detailed and complete analysis of each LASIK Austin patient's eye's visual distortions. The wavefront measurement device measures hundreds of subtle imperfections known as "lower and higher-order aberrations" to create a "wavefront map." The wavefront map measures 100% of the optical aberrations and is like a unique visual fingerprint that quantifies each eye's unique focusing problems. This more detailed wavefront map is then used to guide the excimer laser ablation to reshape the cornea to it's best focus. So in custom iLASIK, a custom measurement is obtained, followed-by an IntraLASE laser created flap, followed by a wavefront-guided excimer laser ablation. Custom iLASIK has proven to provide better quality of vision, especially at night than conventional LASIK or conventional iLASIK.
Bladeless LASIK Results
Our results using the IntraLASE laser for iLASIK have shown: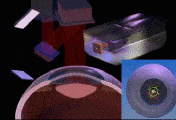 Complications associated with making the flap are virtually eliminated thus enhancing patient safety.
Final visual acuities in eyes treated with intralase are more accurate than any LASIK (blade-flap) procedure.
Fewer visual aberrations (halo, glare, starburst) are created in iLASIK. Therefore quality of vision in iLASIK should be clearer than with standard LASIK
Patients with thin corneas not suitable for standard LASIK can be treated safely with iLASIK due to the ability to create an accurate thin flap via computer controlled delivery of the laser
Flap wrinkles or striae which occur in standard LASIK are rare to non-existent in iLASIK flaps
Patients are more comfortable in deciding to have iLASIK because of the enhanced safety and accuracy of the all-laser procedure.
The optimal combination of technologies for laser vision correction is intralase (laser flaps) with wavefront-guided (custom) excimer laser ablations – Custom iLASIK.
All-laser LASIK FAQ and Custom iLASIK information.
For more information about  Custom iLASIK click onto the link: www.abbottmedicaloptics.com/products/refractive
Differences between LASIK and iLASIK
| | | |
| --- | --- | --- |
| | iLASIK | LASIK |
| Method by which corneal flap is created | Computer-guided femtosecond infrared laser pulses delivered precisely within the cornea | Mechanical instrument (microkeratome) that utilizes a metal blade |
| Ability to accurately control flap thickness, diameter, and architecture | Yes.  Using computer software we can obtain precise flap dimensions for each eye regardless of the patient's eye dimensions | Variable depending on the surgeon's technique, surgical blade quality, and the patient's eye dimensions |
| Higher-order visual aberrations (Eg glare or haloes) induced when the flap is created | Minimal | Moderate |
| Risks of flap complications such as corneal abrasions, incomplete or buttonhole flaps | None | Rare: 1–2%. But can significantly affect vision if present. |
| Risks of Flap Striae/Wrinkles | Minimal to None | 1–2% |
| Overall Patient Safety | The safest method available in the US to create the corneal flap | Overall excellent with limited risks in 3–5% of eyes treated |
| Overall accuracy of the procedure | Outstanding. iLASIK results are more accurate than the results of Standard LASIK | Very Good |
| Retreatment/Enhancement Rate | 2–5% | 5–15% |
LASIK Video Simulator – Laser Vision Correction
To obtain more information about LASIK and iLASIK vision correction surgery at Austin Eye — and to find out if you are a suitable candidate for this revolutionary procedure — please contact 512-250-2020 or email the physicians on staff to schedule your initial appointment.