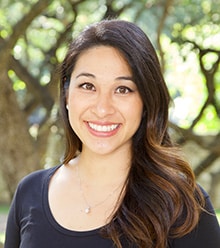 Dr. Kimberly Pham was born and raised in San Jose, California. She received her Bachelor's degree from University of California at Los Angeles (UCLA), and then graduated Summa Cum Laude from Southern California College of Optometry.  She went on to complete her residency at the Veteran Affairs Hospital in Palo Alto, CA specializing in ocular disease, specialty contact lenses, and low vision.
Dr. Pham has worked as a Therapeutic Optometrist and Glaucoma Specialist at the VA in Monterey and San Francisco General, where she gained a tremendous amount of experience in treating and managing diabetic retinopathy, macular degeneration, glaucoma, and corneal pathology. She also worked closely with ophthalmologists for peri-operative care of cataract, glaucoma, cornea and retinal surgeries.
Dr. Pham's mission is to connect, communicate and work collaboratively with each of her patients to offer the highest quality and personalized eye care possible. Dr. Pham speaks English, Vietnamese, and Spanish.
In her free time, Dr. Pham enjoys spending time with her husband and son, running, and exploring the outdoors.